How Long Will Your Home Last?
According to a study by the National Association of Home Builders and Bank Of America Equity, your toilet is committed to a lifetime relationship with you and your home.
The photograph included in this blog post, is a part-by-part guideline to the life expectancy of the many parts of a house. Kitchen cabinets, toilets, windows and wood or stone flooring are in it for the long haul. While certain components of a house, such as a kitchen sink, electric sockets and a microwave oven are built to last a short term, I think you'll be surprised to find that many will last for decades.
Take a look and let me know your thoughts. Comment below on what surprised you the most.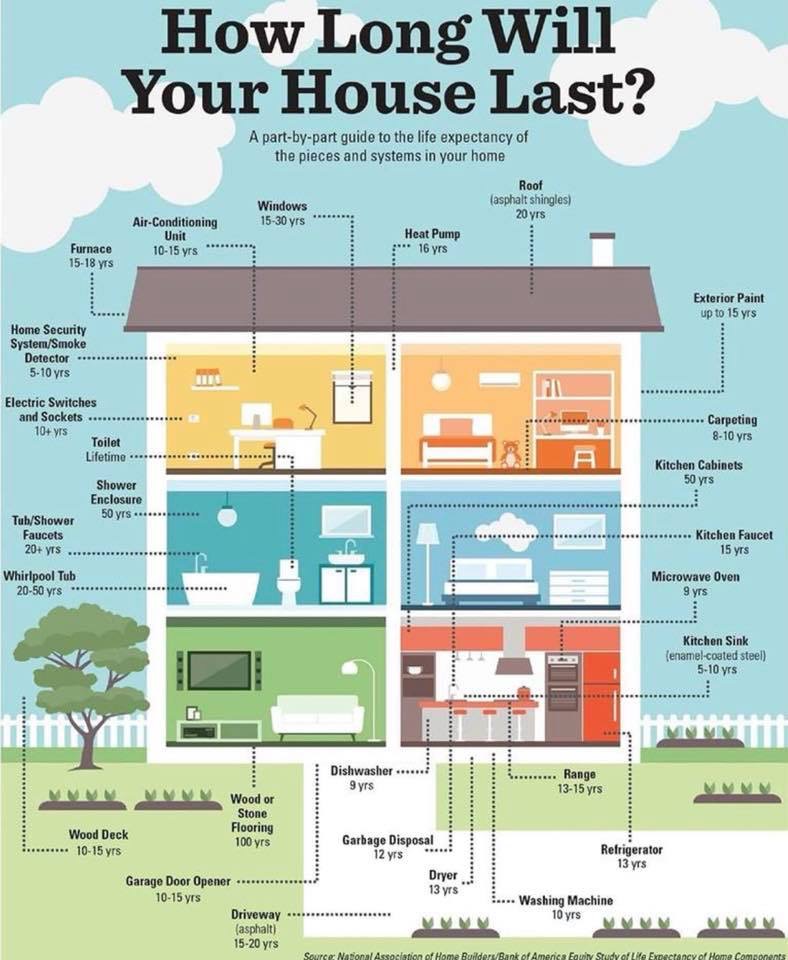 Posted on December 11, 2018 at 1:21 pm
Mojgan JJ Panah
Category:
Uncategorized
Fastest Growing Large City in America!
San Antonio, Texas…home of the Alamo, NBA Spurs, UNESCO World Heritage Sites, and good food!
According to the linked article, "…"San Antonio, Texas, tops the list with the largest population gain with an increase of over 24,200 people – an average of 66 people per day between 2016 and 2017."
If you've lived in San Antonio long enough, like me, you know that the city has gone through a growth spurt. In the beginning there were cattle drives, and now we have highway after highway. San Antonio might be the seventh largest city in the country, but it's now the fastest growing city with a sizzling hot real estate market. Read more about our city's growth: Census Bureau Article
If you're interested in learning more about our history of cattle trails, click on this link: San Antonio Express News
Posted on May 29, 2018 at 11:33 am
Mojgan JJ Panah
Category:
Uncategorized
Market Perspective
Home ownership rates continue to climb across the States.
Americans still choose to buy vs. rent…including millennials!
Some good questions to ask and consider:
Do you know if you're eligible for a home loan?
Do you know your credit score?
Are you paying too much for rent?
Are you happy with your current home?
When is the last time you spoke to a mortgage loan officer or realtor?
Take a look at the attached article, and comment below with your questions.
Posted on December 5, 2017 at 9:11 am
Mojgan JJ Panah
Category:
Uncategorized
Tagged

america, home ownership, housing, loan, market, millennials, mortgage, rates, real estate, realtor, rent, stats